Transform Your Car

 

with our Vibrant and Dynamic LED Dodge 

Emblem
✔️ #1 Most Head-turning Mod: prepare to get tons of compliments and looks
✔️ RGB LEDs: Newest LED tech featuring color-changing ability
✔️ Bluetooth Control: Control your LEDs with your Phone
✔️ Enhanced Look: Makes your car stand out, adding an attractive unique and modern touch.
✔️ Easy Wiring: Features plug-and-play JST connectors
✔️ 100% Waterproof + Dustproof: Emblem is made to last and withstand harsh conditions
✔️ Smoked Black Coating: Stealthy appearance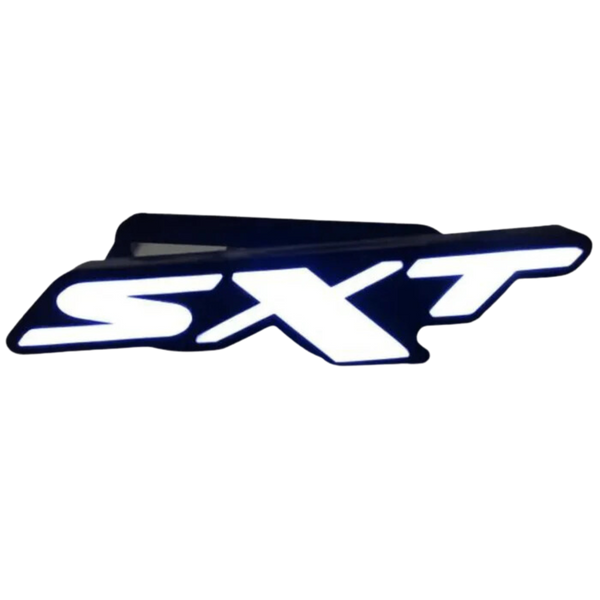 Overview
Light up your ride with the SXT RGB Illuminated LED Emblem Logo! Enjoy colorful illumination with vibrant light modes - from a soft glow to a rapid strobe. Highlight your car with eye-catching designs, easy self-installation and long-lasting durability. Be the envy of your neighborhood with this sleek and stylish accessory.
Color Style + Remote
RGB:

 

Stands for Red, Green, and Blue. This color style mixes these primary colors to create all colors on the color spectrum such as purple, pink, yellow, orange, etc. You'll get full color functionality and options to select flashing, fading and strobing effects.



Controller Options
Bluetooth Controller:

 

Allows you to control the LED lights via app on your phone. The app gives you full control over the colors, modes, brightness, speed and more.
Order Includes
1 Illuminated LED Emblem

Easy Plug and Play Wiring + Harnesses/Drivers

Bluetooth Controller

Install Guide
Installation
Installation Time: 1-2 hours
Installation Overview: Product installs into your existing OEM grille
Tools Needed: Basic Toolset
Vehicle Compatibility
This product fits the following Year/Make Model(s):
2010  Dodge All Models
2011 

Dodge All Models

2012 

Dodge All Models

2013 

Dodge All Models

2014 

Dodge All Models

2015 

Dodge All Models

2016 

Dodge All Models

2017 

Dodge All Models

2018 

Dodge All Models

2019 

Dodge All Models

2020 

Dodge All Models

2021 

Dodge All Models