Honda Pilot Flow Series/Color Chasing DRL Boards (2016-2018)
Transform Your Headlights with Vibrant and Dynamic Multicolor LEDs.
✔️ #1 most Head-turning mod: Prepare to get tons of compliments and looks
✔️ Save money: no need to buy new headlights, simply upgrade your factory headlamps and get the look you want.
✔️ Flow/Color Chasing LEDs: Newest LED tech featuring flowing 120+ effects
✔️ Full Multicolor: the newest and brightest multicolor LED tech featuring a variety of mods and features
✔️ 2-in-1 Hybrid LED Control: Control your LEDs with your Phone + wireless handheld remote
✔️ Enhanced Look: Makes your car stand out, adding an attractive unique and modern touch.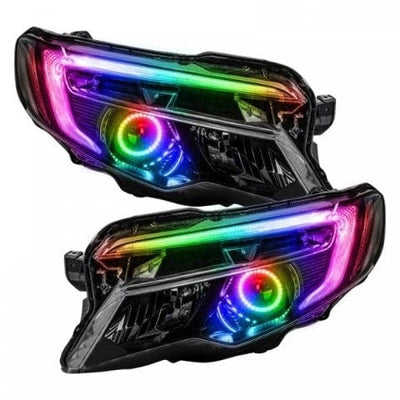 What are DRL Boards?
Many headlights feature white daytime running lights

 

or "DRLs" for short. Circuit boards or Strips

 

are used to

 

illuminated

 

those

 

white DRLs. 
Our

 

Multicolor DRL Boards /

 

Strips are drop in replacements

 

for those basic

 

white circuit boards that give the user dynamic lighting effects and give your vehicle an aggressive, enhanced, and one of a kind look. 
Our Honda Pilot Flow Series Boards are super bright, durable, and will make your vehicle instantly look 10x Cooler. 
Color Style+ Remote
Flow Series/Color Chasing:

 

This is the newest color style option. This color style includes everything from RGBW plus you get over more than 120 different sequential light patterns and color combination modes.
Remote Options

(2 in 1): 
Hybrid Controller
features Bluetooth Control + Wireless Handheld Remote
Bluetooth Control: Allows the user to control the Halo kit/ Led Lights via app on your phone! Our Ultra-responsive app gives you full control over the colors, modes, brightness, speed, and more! Your phone or smart device is the controller! 
RF Handheld Remote: "Radio Frequency" wireless remote features a quicker, easy to use solution for controlling your lights. Similar to a miniature tv remote. This remote option allows you to change colors, modes, brightness, and speed, at the quick click of a button. 
Order Includes
(2) Lighting ColorSHIFT® Halos

(2) 4" ColorSHIFT® 5050 SMD Concept Strips

(2) 16" ColorSHIFT® 5050 SMD Concept Strips

(2) Constant Current LED Drivers

Easy Plug and Play Wiring + Harnesses/Drivers

Hybrid (Bluetooth + Handheld Remote)

Install Guide
Installation
Installation Time: 1-2 hours (after headlight is open)
Installation Overview: Product installs into your existing OEM headlights
Tools Needed: Basic Toolset
Install Guide: 2016-2018 HONDA PILOT FLOW SERIES/COLOR CHASING DRL BOARDS Install Guide
Vehicle Compatibility
This product fits the following Year/Make Model(s):
2016 

Honda Pilot Touring Sport Utility 4-Door



2017 

Honda Pilot Touring Sport Utility 4-Door

2018  Honda Pilot Touring Sport Utility 4-Door



2016 Honda Pilot LX Sport Utility 4-Door

2017 Honda Pilot LX Sport Utility 4-Door

2018 Honda Pilot LX Sport Utility 4-Door



2016 Honda Pilot EX-L Sport Utility 4-Door

2017 Honda Pilot EX-L Sport Utility 4-Door

2018 Honda Pilot EX-L Sport Utility 4-Door



2016 Honda Pilot EX Sport Utility 4-Door

2017 Honda Pilot EX Sport Utility 4-Door

2018 Honda Pilot EX Sport Utility 4-Door



2016 Honda Pilot Elite Sport Utility 4-Door

2017 Honda Pilot Elite Sport Utility 4-Door

2018 Honda Pilot Elite Sport Utility 4-Door