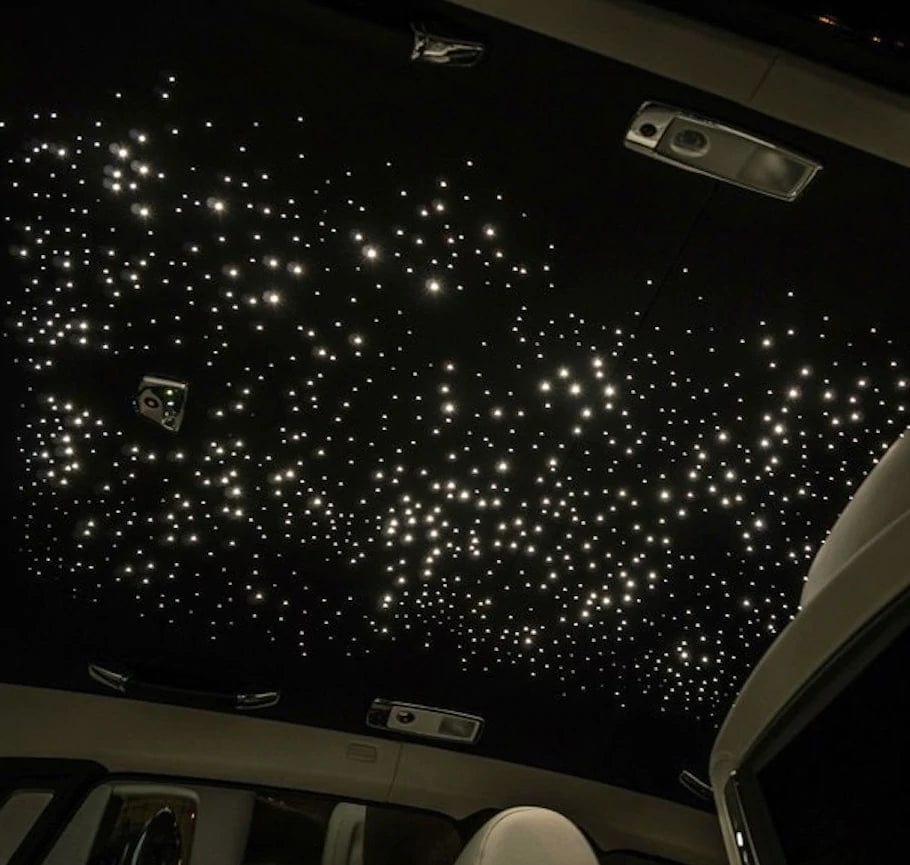 Pro RGBW Multicolor Starlight Headliner Kit 2.0
Turn your Interior into a Luxurious Oasis
✔️ Wow your Passengers: Get lots of compliments and conversation starters
✔️Twinkle Mode: features realistic twinkle star effect to make your stars come alive
✔️Multicolor LEDS: Change your stars to any color, anytime
✔️ Hybrid Control: Control your Lights with Phone or Handheld Remote
✔️ Luxury Look: Makes your Interior look expensive and luxurious
Overview
Presenting our Pro version Multicolor Star Light Headliner Kit, designed to bring a galaxy of twinkling stars right into your vehicle. This unique kit allows you to transform your car's interior with a starry night sky, featuring a dazzling array of colors and a mesmerizing twinkle effect. The kit is easy to install and offers a vibrant, multi-hued spectacle that can enhance any drive, making it feel magical. Whether you are on a long journey or a short trip, our Multicolor Star Light Kit with Twinkle Effect is sure to add a touch of magic and make your ride an enchanting experience.
Give your car the luxury feel every time you drive. With our new starlight headliner kits, you have full-color functionality controlled by a smartphone app and handheld remote, which are included when ordering! With adjustable color-changing modes and music functions, this kit will never cease to break necks!
Installation 
Installation Time: 4-12 hours 
Installation Overview: The product installs into your existing vehicle headliner. Recommended to remove the headliner and punch holes for led strands. 
Tools Needed: Basic Toolset
Color style + Remote
RGBW: Stands for Red, Green, Blue and White. This color style mixes these primary colors to create all colors on the color spectrum such as purple, pink, yellow, orange, etc. You'll get full color functionality and options to select flashing, fading and strobing effects.
Remotes Included
Bluetooth remote  Allows the user to control the LED lights via app on your phone! Our Ultra-responsive app gives you full control over the colors, modes, brightness, speed, and more! Your phone or smart device is the controller! 
RF Handheld Remote: "Radio Frequency" wireless remote features a quicker, easy-to-use solution for controlling your lights. Similar to a miniature TV remote. This remote option allows you to change colors, modes, brightness, and speed, at the click of a button. This option is sometimes referred to as M7 Handheld Remote 
Order Includes
(1) 16w Galaxy Starlight Control Box
(1) Hybrid Bluetooth and Handheld Control/ Remote

(1) Fiber Optic Strand Bundle (450/650 Strands)
(1) 12v Cigarette Lighting Adapter Power Cord
Specification
Operating Voltage: 12v
Remote: Bluetooth + RF 
LED Emitter: High-Power Led Chip Package
LED CHIP: 5050 SMD RGBW
Light body Material: aluminum 
Lifetime: 50,000 Hours 
Vehicle Compatibility
This kit fits the following vehicles: