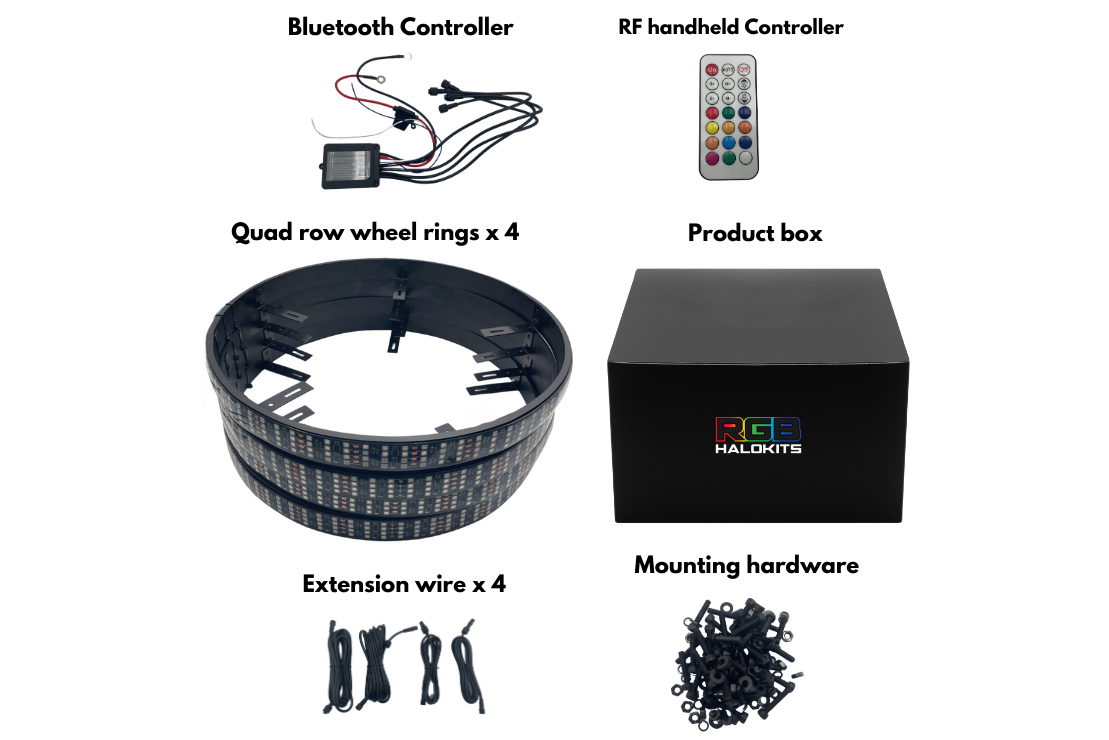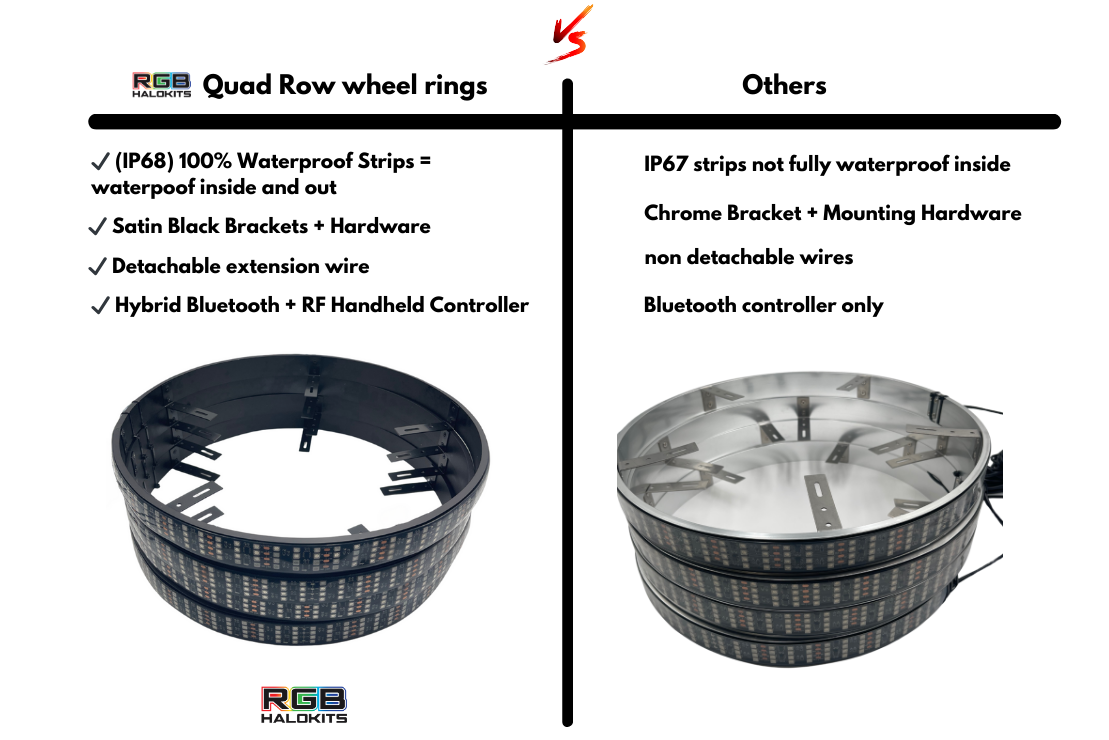 Pro Quad Row LED Wheel Ring Kit : Flow/ Color Chasing
Transform Your Ride with our Vibrant and Dynamic Quad Row Wheel Rings
✔️ #1 most Head-turning mod: prepare to get tons of compliments and looks
✔️ 4 Rows of LEDS: the absolute ****Brightest wheel rings money can buy
✔️ 100% Waterproof IP68 Strips: (Highest rating waterproof on market) made to last and withstand harsh conditions
✔️ Black Brackets + hardware: Stealthy appearance that maximizes the look of the product both on and off
✔️ Flow/Color Chasing LEDs: Newest LED tech featuring flowing 120+ effects
✔️ 2-in-1 Hybrid LED Control: Control your LEDs with your Phone + wireless handheld remote
✔️ Easy Wiring: Features plug-and-play JST connectors


Choosing you size 
Measure the diameter of your brake rotor, and the distance from your rotor to the inner barrel of your wheel.
If the diameter of your rotor is 16.5" or less and you have at least 2 inches of space between the wheel and the rotor the 17" wheel rings should work best.
If the diameter of you 15" or less then the 15.5" Wheel rings should work best 
Led Wheel Ring Info 
RGB Halo Kits LED wheel rings are our popular products, fitting almost any vehicle. They are easy to install and durable, making them the best way to light up your car or truck's wheels!  Plus, RGB Halo Kits provides all the tools you need to install your LED wheel rings. These wheel lights consist of (4) LED-illuminated aluminum rings that install around the brake rotor and attached to the brake dust shield. They can also be mounted to older vehicles with drum brakes. The effect is a large ring of light that enhances custom wheels and stands out at events.
Our oversized 17.5" diameter is the largest on the market and fits oversized brakes. We offer single-row LED wheel lights for any size of the wheel. Our quad row LED wheel accommodates virtually all wheels and offers 4 times the brightness compared to standard LED wheel rings. The RGB Halo Kits LED wheel rings will make your vehicle stand out with a bold and bright glow.
Our LED wheel rings come in Flow Multicolor so you can explore different colors and patterns. Illuminate your vehicle's wheels and undercarriage with LED wheel lights to create various looks. To enhance your LED wheel lights, consider pairing them with other popular RGB Halo Kits products.
Installation is easy with waterproof plug-and-play connectors that connect the rings to the control box. Battery connection leads include ring terminals and in-line fuse for simplified wiring installation. Upgrades to our LED wheel lights include thicker aluminum rings, IP68 waterproof connectors and strips, and pre-installed brackets. If your vehicle doesn't have a brake dust shield, you will need to modify the brackets. Watch our installation video for a step-by-step guide. For vehicles with drum brakes, you may need to create larger brackets or buy XL brackets. Contact our customer service for more answers to your questions.
Color Style + Remote
Flow Series/Color Chasing:

This is the newest color style option. This color style includes everything from RGBW plus you get more than 120 different sequential light patterns and color combination modes. 
Controller Options
Bluetooth + RF Handheld Controller:

Allows you to control the LED lights via app on your phone as well as gives the user a handheld wireless remote for convenience. The app and remote both give you full control over the colors, modes, brightness, speed and more.
Order Includes
(4) Quad Row Wheel Ring Brackets w/ Strips 
(2) 10' Extension wires
(2) 23' Extension wires

Easy Plug and Play Wiring + Harnesses/Drivers

Bluetooth + Handheld Controller

Install Guide
Installation
Tools Needed: Basic Toolset
Install Guide: Wheel Ring Install Guide
Vehicle Compatibility
This product fits the following Year/Make Model(s):
Videos