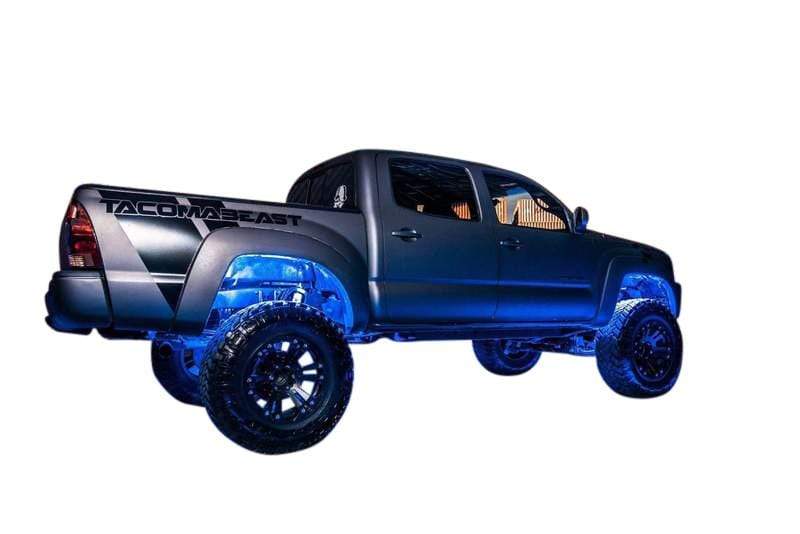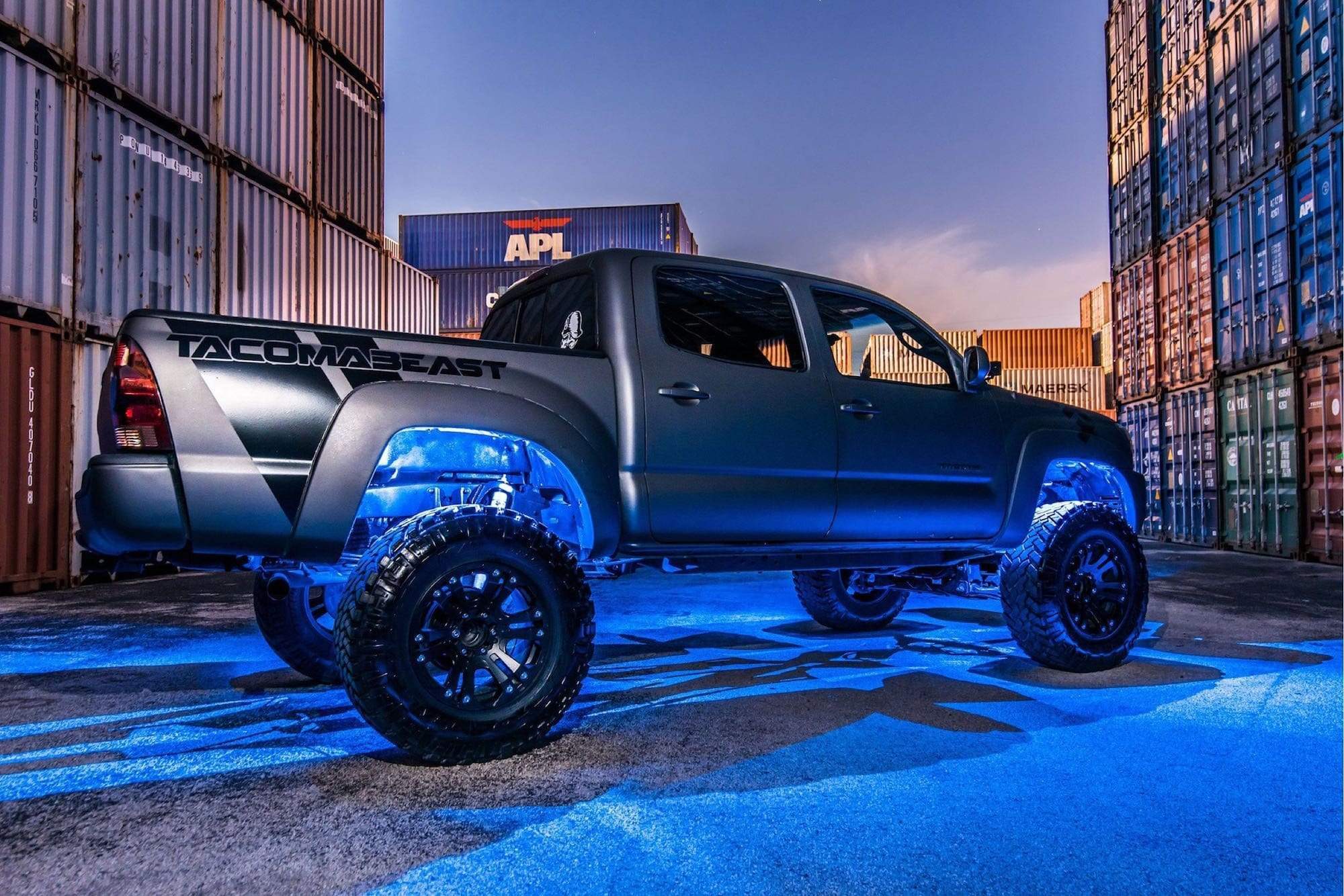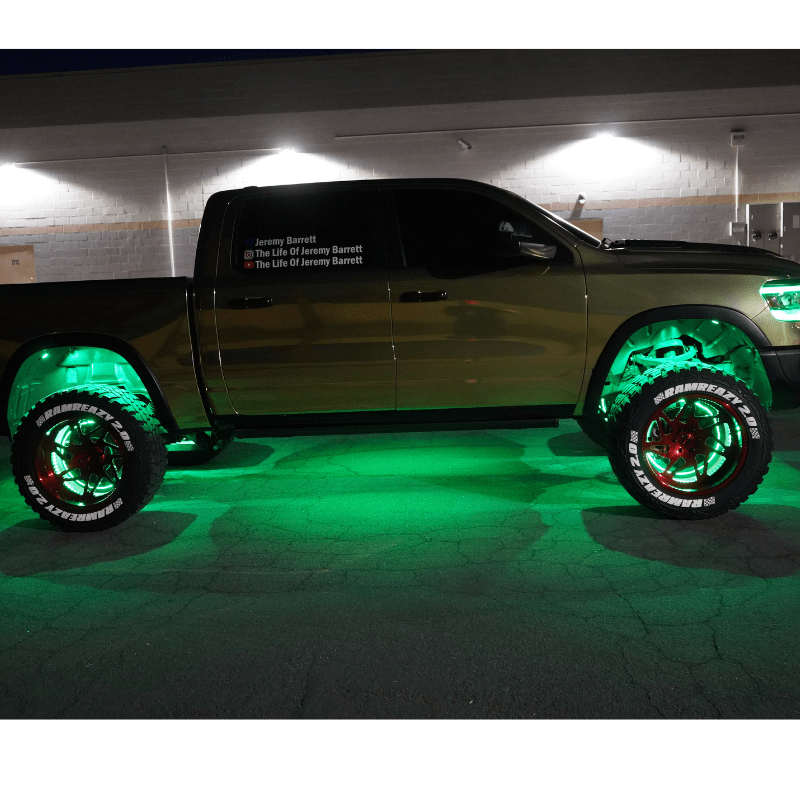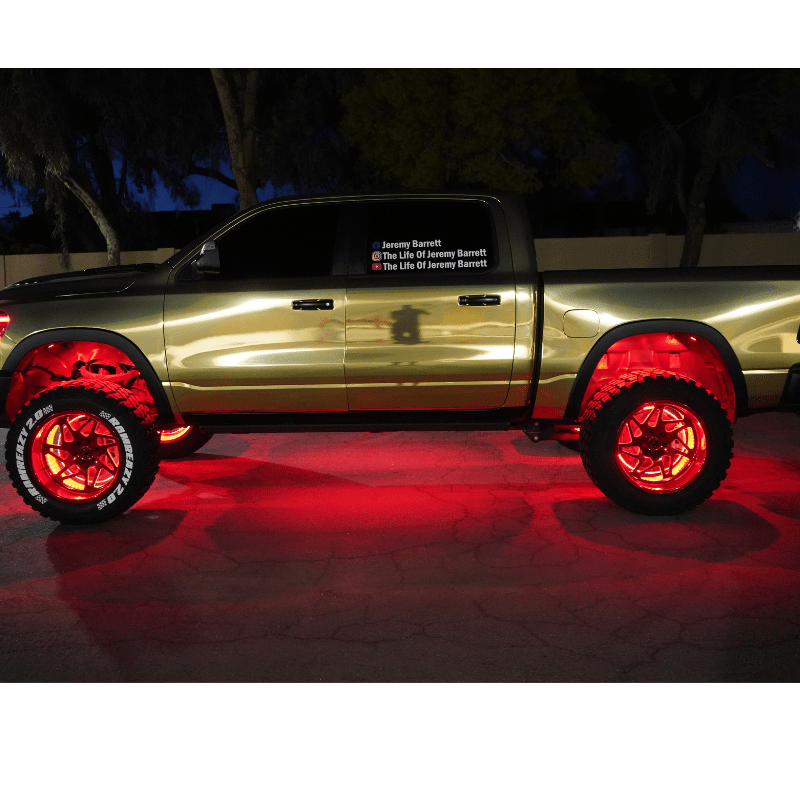 RGBW High Powered Rock Lights


The ability to change your vehicle's underbody color,  anytime and anywhere...  Add flare, uniqueness, and personality to your vehicle!
Features
Adds RGBW multicolor function to vehicles underbody. 
Retains factory appearance when turned off 
Ultra Bright High-instensity LEDs 
Smartphone control with optional Bluetooth Controller
Full Color Changing Headlight functionality 
Quality Engineered and Tested
Overview
OEM Style, Multicolor Function.  Grab a 4-Piece,  or 8-Piece Rock Light Kit today. Our RGBW Rock Lights feature a mind blowing output of 24W (6W per color), versus our original RGB style at 9W these are over 3X the brightness! These offer full color functionality along with a pure White mode.
RGBW. This product is not just RGB, it is available in RGBW! That means there is an extra LED chip that is specifically white in color, right next to the standard red, green, and blue or (RGB) LEDs. By using an RGBW controller, you can activate and control the white chip independently of the colors. This provides a much more uniform, pure, and bright white color than the traditional method of combining all RGB signals, so you can keep a clean, factory white appearance for everyday driving.
Works correctly, with no surprises. Rgb Halo Kits provides quality engineered, proven and time-tested products. Our goal is to make products that will outlast your vehicle! With industry leading warranties to back them up, it's no wonder that Rgb Halo Kits is quickly becoming the leading in automotive lighting. We take pride in our products just like you take pride in your ride.
Reliable operation. To drive the high-power LEDs safely, a constant-current, waterproof, inductive driver is included for each set of DRL boards. These drivers were designed to last the life of your vehicle and have been subjected to advanced transient voltage testing. These tests replicate the electrical wear and tear experienced in automotive environments every time your alternator starts and stops, which is what kills less robust electronics over time. The entire kit is also tested for long-term operation from -40 to 185 degrees F, vibration, and corrosion. All these tests are completed to SAE/DOT standards, just like the factory components.
Experience.  Because of our background in the automotive lighting Industry (since 2012) We can carefully control quality by selling only the best, time proven products, while bringing unique items to market faster than the competition. We back our products with an industry-leading warranty, and the best service and support experience possible. Whether it's Car lights, Halo Headlight kits, Custom Headlights, LED bulbs, full LED assemblies, multicolor accents, or unique lighting control modules, Rgb Hal oKits is quickly becoming a leader in specialty LED lighting.
Adding Multicolor Accent Lights to your vehicle
Gives Your Vehicle an

 

Upgraded Look:  stock vehicles 

are not as fun!




Be Seen! 

Makes your vehicle stand out from the countless other v

ehicles on the road.

 

Enhances Driver Experience:

 

Imagine the compliments you will get




Personalize Your Vehicle:

 

You have a big personality, let your car match your style!




Switch Up the Look:

 

Feeling green one day, and red another day? Choose any color any time.
Remote Options 
Bluetooth remote (Recommended): Allows the user to control the Halo kit/ Led Lights via app on your phone! Our Ultra-responsive app gives you full control over the colors, modes, brightness, speed, and more! Your phone or smart device is the controller! 
Installation
Installation Time: 1-2 hours 
Installation Overview: Product installs in footwell, screws included to hold in place. 
Tools Needed: Basic Toolset
YOUR ORDER INCLUDES
Complete Multicolor Rock Light Kit (4pc or 8pc) + Bluetooth Controller  + mounting hardware 
Easy Plug and Play wiring 
Your choice of controller
Install guide + Access to Install Resources 
Top Notch Customer Support 
Invitation to RGB Halo Kit's affiliate program (earn commissions for referrals)
Quantity:

 

1 Pair (Left and Right Side)
Specifications
Operating Voltage: 12-16V 
Current (amps @ 13.2V): 2
Operating Temperature: -40C to 85C (-40F to 185F)
LED Emitter: High-Power Led Chip Package
Connector(s):  5-pin Input
Driver Features: External, Waterproof, Constant Current
Driver Dimensions: 2.5" x 1.5" x 1"
Materials: Aluminum PCB
Cooling: Passive, uses OEM heatsink


Vehicle Compatibility
This kit fits the following vehicles:
Universal fitment for all vehicles 
Warranty
Lifetime